CHS
Cokeville High School Library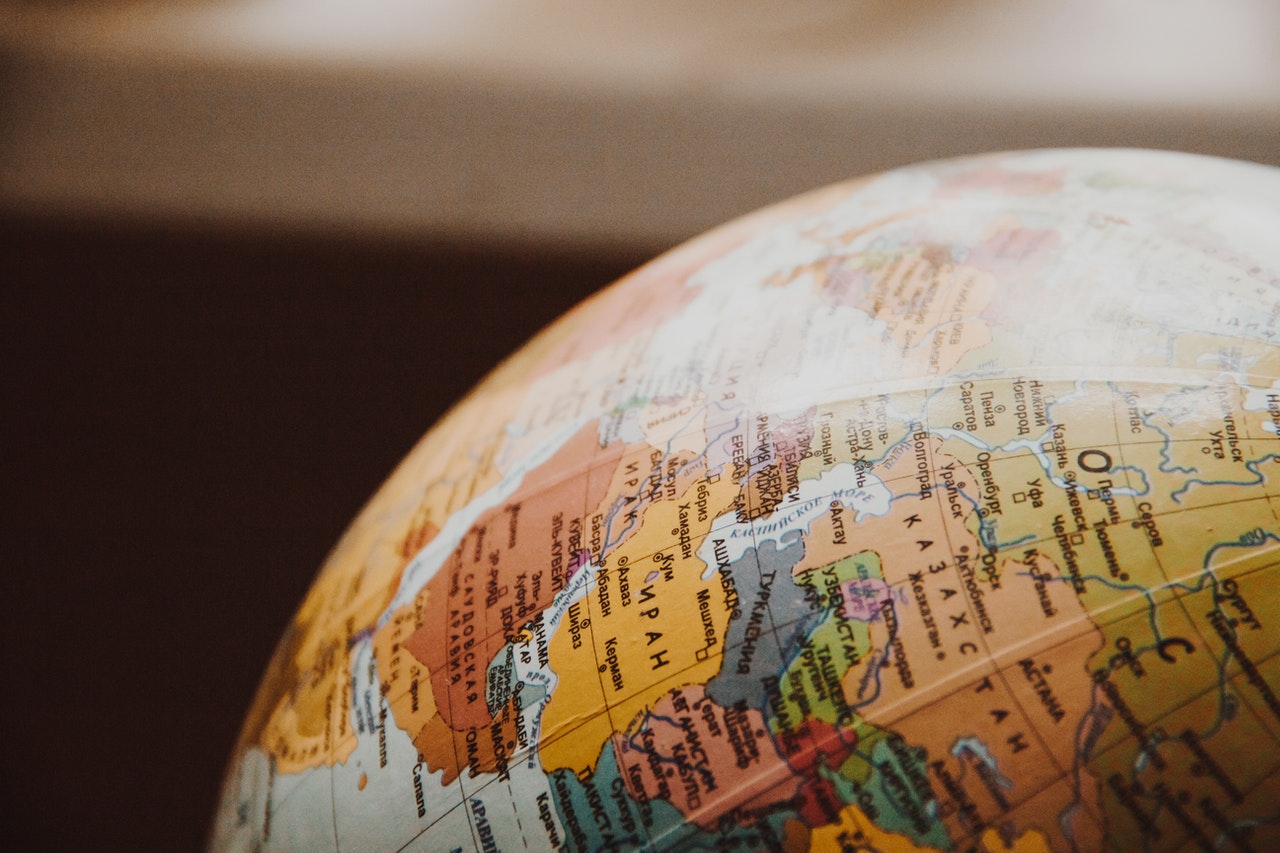 At Cokeville High School, we like to think of the library as a bridge between the classroom and the world beyond, where students can cultivate a love of reading, make real-world connections, and build empathy for people from all walks of life. We're a safe place to land in the middle of a busy school day: a place for curiosity and exploration, for collaboration and deep thinking.
We believe that when students engage in their own learning and growth, amazing things can happen. Our mission is to make everyone better for life by providing personalized support and resources that inspire students to become lifelong learners.
The theme for the fall reading contest is all things spooky! Any books read under the genres of Scary/Horror, Thriller/Suspense, Paranormal, Mystery, Crimes, and Forensics will earn 20 extra points! We have a huge list of books that fit under these genres, so if you don't know what to read, come and ask us and we'll give you some recommendations! The rewards will be a Murder Mystery Dinner for all those who get 360 points and a Fudge Brownie Ice Cream Sunday Party for the class that has the most points! There will also be weekly prizes given to the top boy and girl readers as well as a random drawing for weekly prizes. It's going to be so fun! Happy reading!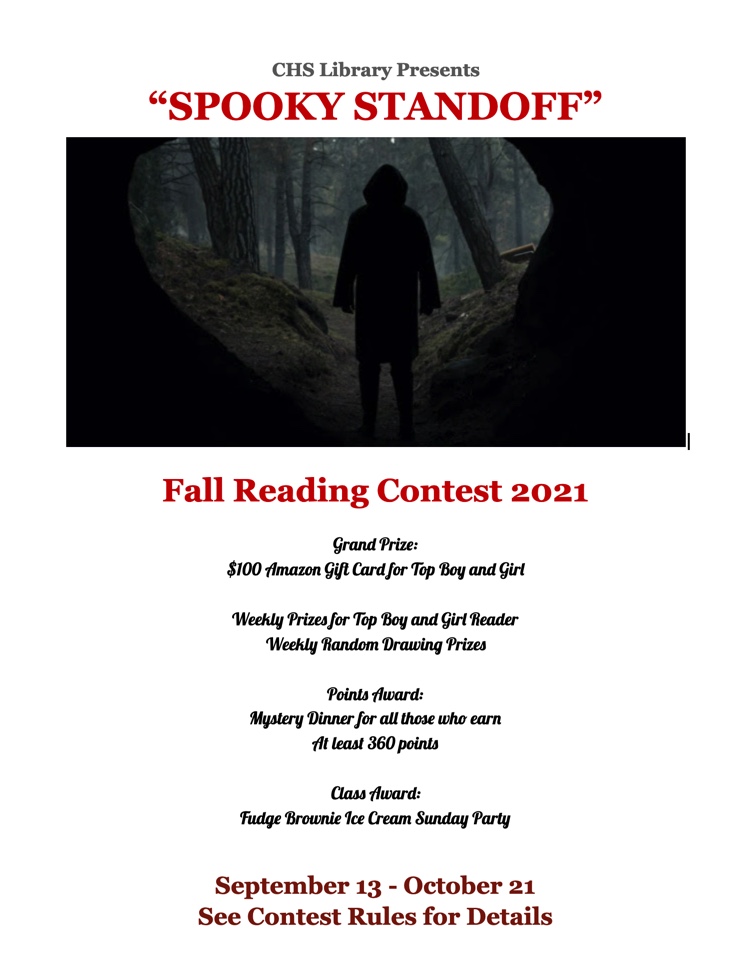 Book Recommendations For Fall Reading Contest
Horror–Larten Crepsley, Darren Shan: As a child laborer many centuries ago, Larten Crepsley did his job well and without complaint, until the day the foreman killed his cousin as an example to the other children. In that moment, young Larten flew into a rage that the foreman wouldn't survive. Forced to live on the run, Larten now sleeps in crypts and eats cobwebs to get by. And when a vampire named Seba offers him protection and training as a vampire's assistant, Larten agrees. This is his story.

Thriller–The Whisper Man, by Alex North: After the sudden death of his wife, Tom Kennedy believes a fresh start will help him and his young son, Jake, heal. A new beginning, a new house, a new town, Featherbank. But the town has a dark past. Twenty years ago, a serial killer abducted and murdered five residents. Until Frank Carter was finally caught, he was nicknamed "The Whisper Man," for he would lure his victims out by whispering at their windows at night. Just as Tom and Jake settle into their new home, a young boy vanishes. His disappearance bears an unnerving resemblance to Frank Carter's crimes, reigniting old rumors that he preyed with an accomplice. Now, Detectives Amanda Beck and Pete Willis must find the boy before it is too late, even if that means Pete has to revisit his great foe in prison: The Whisper Man. And then Jake begins acting strangely. He hears a whispering at his window…

Mystery– The Naturals by Jennifer Barnes: Seventeen year old Cassie is a natural at reading people. Piecing together the tiniest details, she can tell you who you are and what you want. But it's not a skill that she has ever taken seriously. That is, until the FBI comes knocking: they've begun a classified program that uses exceptional teenagers to crack infamous cold cases, and they need Cassie. What Cassie doesn't realize is that there's more risk than a few unsolved homicides–especially when she's sent to live with a group of teens whose gifts are as unusual as her own. Sarcastic, privileged Michael has a knack for reading emotions, which he uses to get inside Cassie's head–and under her skin. Brooding Dean shares Cassie's gift for profiling, but keeps her at arm's length. Soon it becomes clear that no one in the Naturals program is what they seem. And when a new killer strikes, danger looms closer than Cassie could ever have imagined. Caught in a lethal game of cat and mouse with a killer, the Naturals are going to have to use all of their gifts just to survive.

Paranormal–The Haunting of Sunshine Girl by Paige McKenzie: Shortly after her sixteenth birthday, Sunshine Griffith and her mother, Kat, move from sunny Austin Texas, to the rain-drenched town of Ridgemont, Washington. Though Sunshine is adopted, she and her mother have always been close, sharing a special bond filled with laughter and inside jokes. But from the moment they arrive, Sunshine feels her world darken with an eeriness she cannot place. And even if Kat doesn't recognize it, Sunshine knows that something about their new house is just…creepy. On their first night in Ridgemont, Sunshine is awakened by the sound of footsteps coming from above, followed by a child's ghostly laughter. In the days the follow, things just get more frightening. But Kat seems oblivious to the terror, insisting that Sunshine's imagination is getting the best of her. Determined to prove her mother wrong, Sunshine begins taking photographs, desperate to catch evidence of the supernatural presence. At her new school Sunshine meets Nolan Foster, a cute–if slightly bookish–classmate. Nolan also has a passion for photography–and, more importantly, for ghosts. He offers to help Sunshine figure out exactly what's going on. What they uncover is a story that's much bigger and runs deeper than they could have imagined. She can hardly believe it, but as the spirits haunting her house become stranger–and it becomes clear that Kat is in danger–Sunshine learns that everything she thought she knew about her past has been wrong.

Here are a few YouTube videos we have created to help you use digital resources to teach remotely.
Madisen Pauni
I am so excited to be working in the library! I love interacting with kids and I love reading books. When I get a good one I have a really hard time putting it down. EJ frequently hides my books because of that. I am a mom of three, soon to be four, kids. I recently graduated from Utah State with a bachelors degree in Family Life Studies and I absolutely loved everything I learned. I love to play volleyball and basketball as well as any kind of board or card game. I have a bad case of FOMO (Fear Of Missing Out), so if there's any kind of activity happening I am usually there! My hope is to have a positive impact on the kids that come through the library. I want to help them be the best they can be!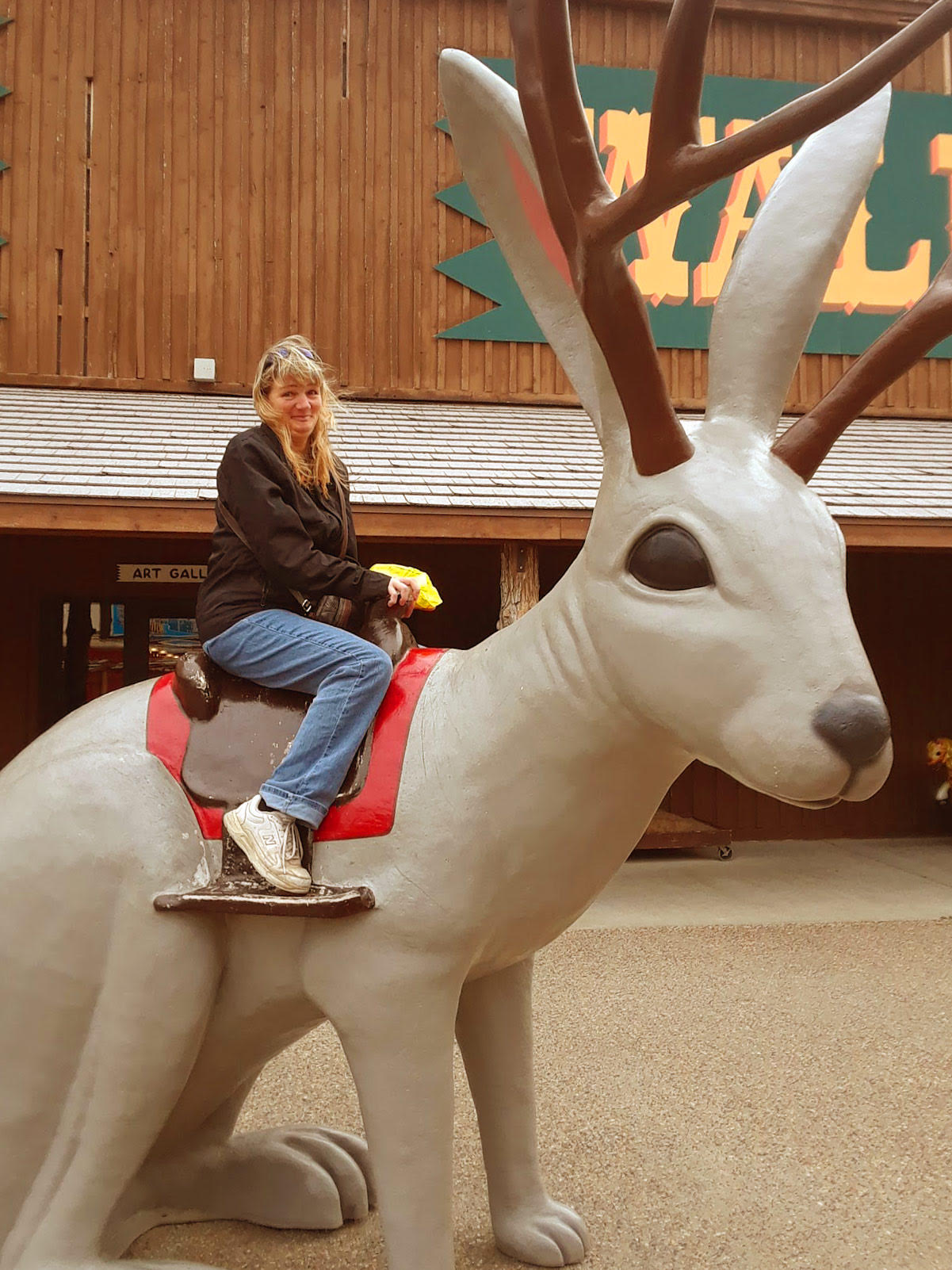 Sadie Payne
I am a rancher's wife, art teacher, and librarian for Cokeville High School. I received my bachelors of science from Utah State in finance/business administration and have taken several history and art classes from different educational colleges. Love sunlight and try to find anyway I can to get outdoors and soak it up. My passion is reading any kind of book (lots) and creating artwork (I think it is the best of both worlds). Using my hands to build something unique and fun is the ultimate pastime. Creativity and ideas can become unlimited if you reach for the stars.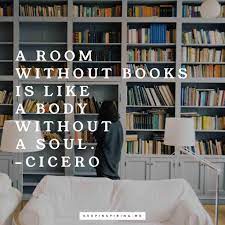 Quote of the Week