Etna
Etna Elementary School Library
Read. Discover. Connect. Inspire!
We believe that reading changes lives.  We aim to empower students and teachers to become independent, effective information seekers who love reading for both information and pleasure.
Resources for TEACHERS to Use During School Closure
Resources for STUDENTS to Use During School Closure
AR Testing from home
We are now set up to AR test at home.
- Students will use their regular username and password.
- Mrs. Hunsaker has opened up the time restrictions so that they can test at more convenient times.
To access quiz numbers for all AR books:
- A "Quick Search" by title will work for most books you are looking for
- Choose "Advanced Search" to find specific non-fiction books and make sure you also list the author of the book
Looking for Reading Material?
Non-fiction Resources
Gale Resources Database:https://youtu.be/5mOUtNZKUns

the password to Gale Databases is: library

If you access our Gale Databases (see above link), there are thousands of non-fiction articles on every subject.
World Book Online- This site has a myriad of activities, articles, pictures and videos for student use

www.worldbookonline -
School ID's
aftonworldbook
cokevillewb
etnawb
osmondworldbook
thayneworldbook
The password for all five schools is: research

myON: digital library and news articles
Fiction Resources
Tumble Books: This resource has been made available to us through our Lincoln County Public Libraries
If you have a library card through the Public Library, there are 3 different digital options to choose from: rbdigital, Overdrive or CloudLibrary.  Please visit any public library website to learn more:
EPIC - Is offering free access to students and teachers through June 30, 2020

click on "Students & Educators"
enter the class code given to you by your teacher (if you don't have a class code, please contact your teacher)
click "go"
now you have access to hundreds of books.

JUNIOR LIBRARY GUILD - Most of these books will have AR quizzes, but if you want to check, go to arbookfind.com to look it up.

Enter the school-level book stream of your choice:

Elementary Username: JLGELM  Password: JLGFREE
Middle School Username: JLGMID  Password: JLGFREE

Audible: for as long as schools are closed, audible is open.  Try these audible books for free!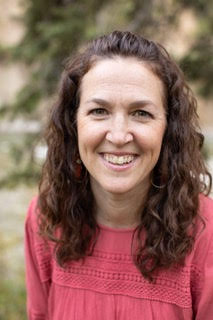 Katie Thygerson
I have loved books and reading since... always!  I began my library career as a 5th grade library helper at Ator Elementary in Oklahoma.  In my teens I volunteered at the local public library, then went on to work at both the university library and an independent bookstore in college.  I have a degree in Theater Education with an English/Language Arts endorsement.  I was a sassy-pants middle school drama teacher before staying home with 4 kids and home-schooling for 7 years.  Now I'm delighted to be back in the library helping more kids discover their next favorite book (or find their first favorite!) and offering hugs, high fives, and candy when needed. When I'm not reading, I'm probably twirling around my house, singing along with my current favorite Broadway musical.